We are very excited to announce the addition of Physiotherapy services to serve you better!
What is Physiotherapy?
Physiotherapy is a physical rehabilitation discipline that focuses on restoring movement and physical function through the prevention, treatment, and management of injuries and other conditions affecting movement. You can read more about Physiotherapy on our Treatments Page
How is our treatment different than other clinics?
As we've continued to do since opening, our clinic strives to be the best at providing care through a number of ways:
Our treatment is Patient Centered: This means our goals are the ones that have your best interests in mind – understanding your injury and promoting recovery by proving the best care possible. We will only recommend treatments/sessions that you need to help you achieve your recovery goals (not just to squeeze you or your insurance policy for money)
Evidence-Based Treatments: We employ a wide variety of scientific-based modern treatment practices that have clinically proven results
Hands-on Treatment: Practitioners and treatments are hands-on, meaning more time is spent on actual treatment (face-to-face) with the practitioner. While we utilize treatment machines, these are often auxiliary parts of the treatment (unlike other clinics who just set patients up on machines with minimal interaction during a session)
No Initial Consult Fees: Clinics normally charge an extra fee for initial consults (usual initial consults are $100-$150). We provide initial consults at no additional cost to the same-day regular treatment session. We want to remove the high cost barrier to our patients seeking the treatment they deserve.
Practitioner Excellence: We believe in our practitioners and firmly believe that our patient's ability to feel comfortable in the personality and skillset of the practitioner matters as much as 'just getting the treatment'. Our practitioners are great at developing rapport with our patients and helping see them through a complete treatment plan (rather than clinics who assign you to whichever staff happens to be working that shift.)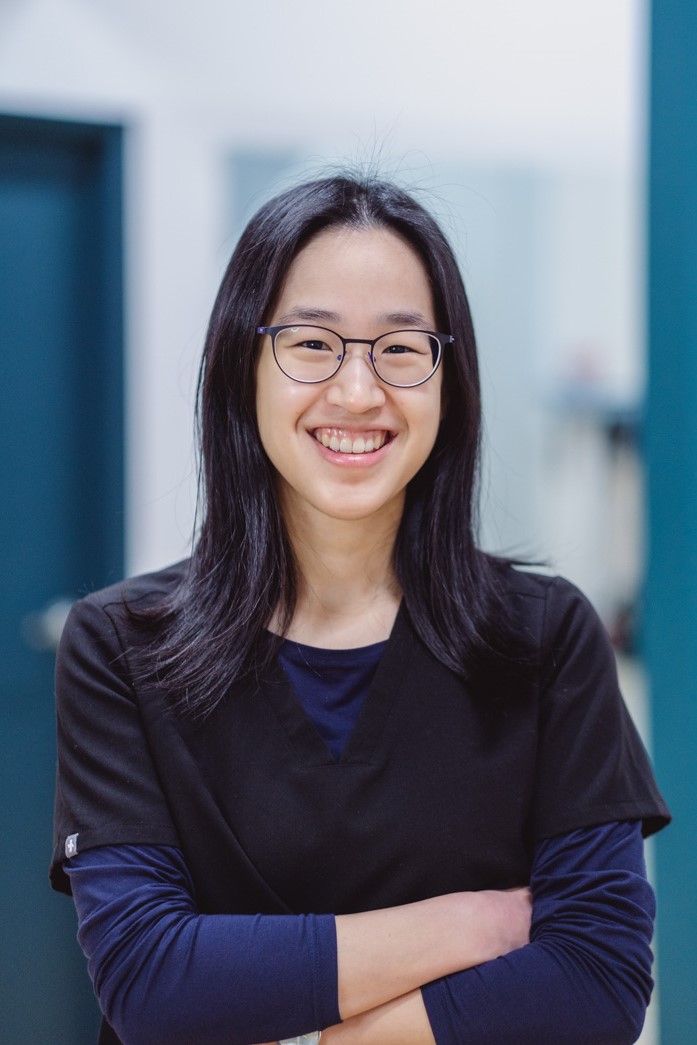 Welcome, Sabrina Kan, PT
Sabrina Kan is joining as our Physiotherapist and has a unique approach in helping patients in setting and achieving their physical health & recovery goals while building a comfortable atmosphere with patients through her calm and welcoming personality. She is fluent in English and conversational Cantonese and has a strong hands-on focus in her approach to Physiotherapy treatment. You can read more about Sabrina on our Staff Page.
How is Physiotherapy different than Chiropractic treatment?
Both Chiropractors and Physiotherapists specialize in providing treatment to musculoskeletal issues – this means anything to do with muscles, bones & joints.
While there is a lot of overlap and both can treat very similar issues, there are unique approaches to treatments that each professional employs:
Chiropractors specialize in manipulation of joints, especially around the neck/back. Treatment, while not exclusive to, often revolves around 'releasing' of seized up joints (informally referred to as 'cracking' the joint) to promote comfort and recovery.
Physiotherapists specialize in treatment sessions/plans that also employ patient exercise and physical movement/stretches to aid in the process of specific diagnosis and treatment. Sessions revolve around goal setting, tracking progress and providing patients with at-home recovery regiments. Physiotherapy is also not only for treating injuries, but is great at improving livelihood through treatment for preventative measures (building up physical health to prevent new/recurring injuries) or increasing athletic performance.
Initial Consults during Covid
We have implemented a number of changes to how our clinic operates to ensure the safety of staff & patients, and to do our part in helping reduce and limit the spread of Covid-19. Please read our Covid-related operational changes here.
In accordance with best practices, the free initial consult portion of your first visit with a Physiotherapist will be via video conference.
As initial consults involve a high amount of speaking, we felt that the initial consults should be, in the best interest of safety and convenience, done prior to the first treatment session via video conference or phone call. We know not everyone enjoys wearing masks and having long conversations, so this will allow patients to feel comfortable as they discuss their health history and discover how Physiotherapy can assist them in their livelihood with our practitioners before having to come into the physical clinic.
There is no cost to the video/phone conference portion of your consult (~15-20 minutes). Fees only apply for your first in-person treatment (regular session fee of $75) .
If you are interested in a free initial consult, please book an initial appointment in our online booking system. We will contact you to arrange a video/phone call to be scheduled a day prior or the morning of the consult you booked.
Book an Appointment today to find out how Physiotherapy can help you!
ALHC Now Offers Physiotherapy Treatment!